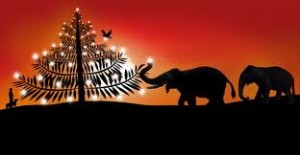 Deah, știu, mai e. Dar trebuie să intrăm în atmosfera de sărbători. Nu de alta, dar am descoperit un colind foarte frumos pe care trebuie să-l auziți și voi. E ușor…exotic, fiind parte din coloana sonoră a unui blockbuster indian, mai pe directelea, bodyguardul bollywoodului. Despre cântecul de care vă zic, youtube-ul are doar vorbe elogioase: "Teri meri prem kahani" is the most awaited song from 'salman khan upcoming movie Bodyguard'. The audio song is already topping all chartbusters and it's time to enjoy the video. So all salman khan fans enjoy watching Teri meri meri teri prem kahani video song of bodyguard movie featuring salman khan, kareena kapoor. This song is sung by rahet fateh ali khan & shreya ghoshal. This song is composed by Himesh Reshammiya."
Aflăm și de cine e compus și dăm play, din masochism.
WHAT TEH FUCK?
Dacă faceți parte din categoria sunt afon dar mă tratez, am fost plecat din țară de când m-am născut sau de Crăciun mă îngrop într-o criptă și ies abia la jumătatea lui ianuarie, și treaba vă sună cunoscut dar nu prea, încercați și asta.
Ce să zic, poate-ați auzit-o și lălăită pe la uși de colindători (dacă ați mai văzut lately, nu de alta, dar sunt o specie pe cale de dispariție, sunt înlocuiți de Marea Cerșeală de Crăciun). Sau, dacă aveți copii la purtător, poate aveți vreun CD cu Cleopatra Stratan.
Eh? Ce ziceți de asta?
Hohoho!… Merry November!
Ah, și surse secrete îmi suflă că actorul, mega bodyguardul, a fost/este/va fi combinat cu Iulia Vântur. Hmm. O teorie a conspirației îmi ia născare între circumvoluțiuni.
Scormonind si mai departe rahatul, aflam ca domnu compozitor da vina pe actor, ca el i-a fredonat acest cantec folk indian pe care il avea in minte. Si ce e si mai ciudat e ca nimeni nu face legatura. Hahahahah! Iulio, ia spune drept, i-ai trimis vreun cd cu colinde cadou de ziua lui?