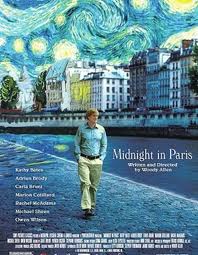 Sunt mult în urmă. N-am apucat să povestesc multe, despre viață, despre muzică, despre biserica de lemn de la Jupânești, despre petreceri. Despre cum oamenii îți bat obrazul că de când te-ai măritat nu-i mai cauți din simplul motiv că au găsit un motiv – alminteri nici ei nu prea dau semne de viață, dar, hei, ei nu au un motiv anume. Dar au obișnuința celui care e în general căutat de alții. La mine – it must be it, must be the married life. It's not, vă zic, life's pretty much the same, oricât de dezamăgitor ar suna asta 😀 (eu zic că e de bine).
Încerc să recuperez distanța și încep prin a vă povesti de cel mai recent film al lui Woody Allen. La care am fost cu fostul meu prieten, actualul soț într-o seară destul de gri de luni.
Doar că atunci când am ieșit de la film, seara nu mai era gri. Era albăstruie cu tente lila și parfum franțuzesc.
Filmul e foarte frumos. E o gură de oxigen pigmentată cu frumos. Woody trebuie că trece printr-o perioadă pufoasă a vieții, bașca pigmentată cu concluzii înțelepte. După un You Will Meet A Tall Dark Stranger care nu prea mi-a plăcut, Woody Allen urca iar sus, sus în topul meu. Așadar eu zic să mergeți să vedeți filmul. Dali și Hemingway sunt nemaipomeniți.
Mâine, când e posibil să am mai mult chef de viață, o să vă povestesc despre monumentul istoric de la mine de la țară, despre care se pare că știe și Costin Gheorghe. În seara asta merg să văd și Pina, cu … suspans! Nu, nu cu fostul prieten actualul soț, ci cu mama fostului prieten actual soț, adică actuala soacră.
Soundtrackul lui Midnight In Paris ține cu succes loc și de muzica zilei, așa că iată: